Water Repipe
Plumb Crazy Plumbing technicians are the re-piping experts. We have re-piped over 4,000 homes, apartments, and commercial buildings. This means that when we come to your home you have a highly experienced crew working on your project. We provide the highest quality re-pipes in the industry. Our experienced plumbers evaluate each job individually with a custom solution catered to how your house is built.
Over head re-pipes
Over head loops
Sub floor re-pipes
Water pressure restoration
Water discoloration
Pigtails ( the transition from outside to inside)
Pressure reducing valves
Certified Trained Uponor Installers (adds 15 years to standard manufacture warranty)
What is Re-piping? As the pipes of a plumbing system age, these pipes will need to be replaced because of corrosion, leaks, slab leaks, pin hole leaks, low water pressure, and rusty water. This replacement process is referred to as "re-piping." Plumb Crazy Plumbing new water systems include a 25 year Uponor manufacture warranty. Plus, we use expansion connections that keep volume and pressure unlike traditional PEXcrimp systems that insert into the piping causing restrictions.
WHY UPONOR?: OVER 30 YEARS OF PROVEN PERFORMANCE
A true pioneer in the field, Uponor first unveiled cross-linked polyethylene tubing for potable water systems in the late 1960s. Thus, before others had entered the market, Uponor had thousands of feet of PEX-a working trouble-free in real-world installations. With 12 billion feet of Uponor PEX-a now installed worldwide, it has become the trusted solution for plumbing and heating systems for residential and commercial buildings, and multipurpose plumbing and fire sprinkler systems for one- and two-family homes. Designed, installed and operated properly, Uponor PEX-a systems will last as long as the structures they inhabit.
Watertight Connections = Peace of Mind
Introduced more than a decade ago, Uponor ProPEX fittings remain the surest method for making watertight Uponor PEX-a connections fast and easy. Capitalizing on the unique, thermal shape memory of Uponor's PEX-a tubing, fittings actually get stronger over time. No need to worry about behind-the-wall connections – ProPEX joints will last the life of the building.
25 Year Warranty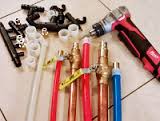 Get a 25 year warranty on pipe and fittings when using a certified installer. ( All Plumb Crazy Plumbers are certified)
Expansion Fittings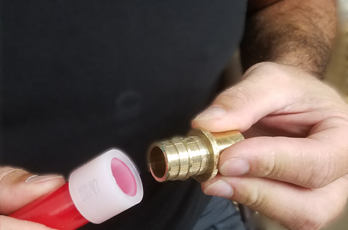 The pipe is expanded over the fitting which creates a solid connection that gets stronger over time and does not restrict flow like traditional crimp PEX fittings.
Uponor Installations
All systems are strapped and insulated. (insulation not shown)