We appreciate you considering Plumb Crazy Plumbing for your next project. With our upfront pricing and extensive knowledge, you are assured a top quality repair. Our technicians are trained to treat every job like they would for their family because we think that's the right way to do business. We hope using us once will make you a customer for life. Give us a call and join the Plumb Crazy Family today!
---
Great effort if a bit tedious for them. Kept me informed. Always good service.
Just had a service call the technician Bandi was in top of his game. Within 2 minutes of being here he figured out the problem. Then he was able to fix it within 30 minutes with a complete clean up, no mess for me to deal with. I've used other plumbers in the pass but they just made me a committed customer thank you Bandi and plumb crazy
John came out fixed an issue we had. He was extremely nice! Gave us an estimate of what it would cost. No surprises. Would recommend him. Glad to find someone you can call and know things will get fixed. Thanks John!
0 Stars Extremely rude dispatch. She had called asking to move my appointment which I agreed. This appointment was to redo work that hadnt fixed my water heater issue from last week. I agreed to an 11am appointment. While I waited I took the time to review the invoice. This was the first time I saw any line item view of what I had paid for. To my shock, I was charged $138 for Toto toilet flusher and $233 for two water heater elements. Note, there is no breakdown between parts or labor and in the case of the water heater the parts should not have been covered but per my invoice there is no distinction. After discovering this I called dispatch and requested that someone else come out, when asked why I got into the specifics on the invoice and some work issues regarding the technician I noticed last week. The dispatcher immediately got defensive, rude, started cutting me off, and saying I signed everything. At that point, I got defensive back and brought up price gouging on the Toto flusher. After a back and forth she hung up after I again said that they price gouged me on the flusher. I hope this isn't how they stand by their work, if it is they won't be in business for long.
Have used Plumb Crazy on three different occasions, the last involving a water line repair for a leak under the cement slab in our home. Billy and Hector were our technicians and they were fantastic. They quickly found the leak and repaired it without making a huge mess. They, as with each person we've encountered with Plumb Crazy, were courteous, prompt, and very knowledgeable. I would recommend Plumb Crazy to anyone needing either small or large job plumbing work.
I loved the way they set up appointments so easily, then followed up with call, text and email to tell ask if I was home when the plumber was ready to come, to say that they had dispatched the plumber, even sending me a picture of who was coming to my door and number of years he had worked for them. Their computer estimate, invoice system worked immediately giving me electronic paperwork which I really appreciated. My problems involved a whole lot more than originally thought because of missing parts in the toilet I had purchased. They took care of me with extraordinary care and patience. I will definitely use them again.
Great business courteous staff and very professional. If you have plumbing issues contact Plumb crazy plumbing . You will not be disappointed.
I had a wet floor in my dining room. I was expecting to have the floor dug up and a water pipe replaced. However it was good news for me......Brian and Tim showed up and discovered it was a drain line which was a pleasant surprise. They and their snake unclogged the drain lines within an hour and saved me almost $3,000. I highly recommend Plumb Crazy Plumbing, call 679-2256.
quick. professional. I received a picture of the person coming, so I knew who to expect.
We had a wonderful experience. Kevin and Tim were our service technicians and both were excellent. They arrived on time, were very courteous and professional. The quote was reasonable and they salvaged whatever they could to keep our costs down. Will be using them again in the future.
We recently discovered we had a slab leak and called plum crazy plumbing. They did an amazing job. Tim and Kevin were so professional and they worked until everything was running perfectly and even after lots of unexpected difficulties. I will call plumb crazy plumbing anytime I have any plumbing issues because they were so dependable, professional, efficient, and also very competitively priced!!
First time using them and was really impressed and comfortable with their work. Explained and worked efficiently to get my main sewer cleared and also cleared/unclogged washer drain. Will definitely call these guys again.
Brian helped me out today. He had to get a part and returned very quickly. All was explained, including estimate, and completed quickly. Greatly eased my mind. Sharon L.
So sorry guys. Was leaving a 5 star review and thought you had to touch all the stars and it submitted as soon as I touched the first. Tried to correct but couldn't. Very fast and good service. The guys were also sweet. Thanks!
Very competent and friendly staff
After hours , same day service. Professional, fairly priced, and came with a guarantee!! I have found my new go to plumber! Thank you!
I've been using this company for years and they have always met my expectations. They are reasonably priced and do what they say and say what they do.
Service was great and fast! They were very informative and so nice!
Prompt arrival. Worked quickly and efficiently. Advised on future job.
I have several properties and I use plumb crazy whenever I have any issues. They are very friendly, get to the job quickly, and wonderful to work with. I highly recommend them to anyone!
Brian was great at our house yesterday. Thank you!
As soon as I told John we were a school and needed help installing a washer and dryer... for free, he sent a plumber over the same day! I highly recommend and appreciate their dedication to our community.
Brian was efficient & courteous. Got the job done for the price quoted. Highly recommended.
I have had the worst experience beening charge for nothing do not use this money hungry company ever.
Great customer service and affordable!!
Previous
Next
Why Choose Us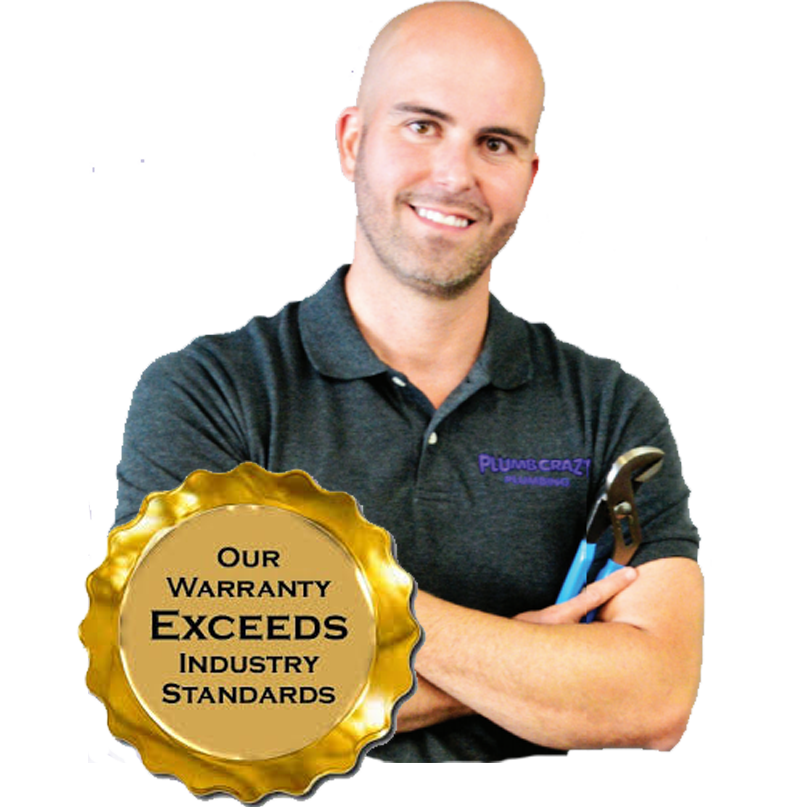 Base 30 Day Repair and 1 Year Labor Warranty on Replacement Work
Plumb Crazy Plumbing offers a standard 30 day warranty on repairs, drain cleaning and 1 year warranty on replacement plumbing jobs.
Extended Warranties