Water Heaters
Without hot water, you won't be able to have a long and leisurely bath. However, hot water is far more important in your home than you might think. 
Your water heater also ensures that you can properly wash your hands. You may need hot water for your dishwasher, washing machine and home heating system, making your water heater a very important piece of plumbing equipment.
If your water heater is broken, our gas water heater specialists may offer just the help you need. Our team consists of both electric water heater specialists and gas water heater specialists, meaning there is nothing you can send our way that we won't be able to fix.
We offer water heater installation and water heater replacement in OKC, with our services covering the entire Oklahoma City area.
We offer repairs for:
Pilot Light Repairs
Unitrol Gas Valve Replacement
Electric Elements
Thermostats
T-n-P Valves
Leaks
Tank flush and cleaning
Hot water that turns cold to fast
5yr anode replacement
Thermal expansion tanks and valves
Tank elevations
Recirculation lines
Mixing valves
Hot water tank noise
Call our professionals at Plumb Crazy Plumbing to schedule a water heater inspection now! Whether you choose to purchase a water heater through us or pick up one from the supplier of your choice, we'll get you equipped with a fully functioning water heater that will last for years to come. We also provide free consultations and on-site quotes to provide you with the best options suited to your needs and budget.
Our Services
Our installation and repair services include:
Pilot Light Repairs
If your pilot light won't ignite, your water heater won't operate. Pilot light repairs are often quick and easy, meaning we can get your hot water running again in just a few hours.
Unitrol Gas Valve Replacement
We can replace Robertshaw Unitrol gas valves. The gas valve controls gas flow to the main burners, which means these small valves have an important role to play. We can supply and fit Unitrol gas valve replacements quickly and efficiently.
Electric Elements
Electric water heating elements are a speciality. If you are having electric heater hot water problems, why not ask us to take a look at the electric elements? We can supply and replace your electric heater elements.
Thermostats
Your water heater's thermostat monitors the temperature and activates or deactivates the heater. If this is damaged, your water heater might not work when you need it to. Another issue may be that it is running constantly and wasting energy and money. As part of our water heater repairs, we can check and replace your thermostat.
T-n-P Valves
T-n-P valves help to maintain a safe pressure and temperature. We can replace T-n-P valves to repair your water heater.
Leaks
We provide water heater installation services to all OKC residents to help them identify and fix any leaks within your water heater system.
Tank Flush and Cleaning
We can empty and clean your hot water tank to ensure it is free from contamination and can continue operating functionally.
Fluctuating Water Temperature
If your hot water suddenly turns cold, we can identify the cause of the problem and take action to prevent it from happening.
5yr Anode Replacement
An anode rod has a 5-year life expectancy, which is significantly shorter than your water heater as a whole. It prevents rust and should be replaced approximately every five years to prolong the life of your heater.
Thermal Expansion Tanks and Valves
Thermal expansion tanks and valves are part of your heater's pressure safety system. We can provide repairs to these important parts.
Tank Elevations
We can correctly position your water heater to allow it to work efficiently.
Recirculation Lines
We can repair hot water recirculation lines. These repairs can include leak repair and leak sealer services, all by an experienced gas water heater specialist.
Mixing Valves
Mixing valves ensure that the water in the system is safe for you to touch. We can repair these vital temperature controls.
Hot Water Tank Noise
If your hot water tank is loud, it can be distracting or even prevent you from sleeping. Let us examine your water heater to see if there is an internal issue causing loud noise, as well as if there is a way we can get it to quiet down.
Quality Pro Grade Heaters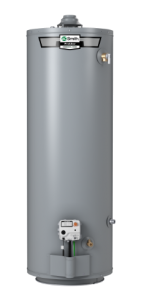 Pro grade water heaters are supported locally, with a full line of replacement parts available on residential tanks. This means there can be limited downtime if there is ever a problem.
Any Pro version A.O. Smith 6 year tank is eligible for a 4-year warranty extension at the time of purchase. The tanks we install are eligible for a $50 ONG Rebate as of 04/16/19 as long as funding permits.
We can also dispose of your old water tank as part of our water heater replacement services in OKC.
Trust Our Specialists
We are water heater experts. Our gas water specialists and electric water heater specialists offer a reliable service, including emergency coverage.
Whether you require a repair or a new water tank, you can trust Plumb Crazy Plumbing. For peace of mind, we offer a 30-day warranty on repairs and a 1-year warranty on replacement parts.
We are highly recommended as electric water heater specialists, for many other parts and repairs.
Contact Us: 405-604-5278
Do you need hot water repairs or replacements in Oklahoma City? Call Plumb Crazy Plumbing and our specialists will come to examine at your gas or electric water heater today!