Plumbing
As a homeowner, the last thing you want is a major plumbing problem that can cause sewage leaks and even structural damage to your home. That's where we come in.
At Plumb Crazy Plumbing, we offer a full range of residential and commercial plumbing services, and we are committed to providing professional, honest and affordable service on every job.
We have licensed, professional, courteous plumbers that can provide solutions for all of your plumbing needs, including:
Toilet repair and replacement
Faucet repair and replacement
Sewer, water, gas repair and replacement
Drain cleaning
Cameras and detection equipment
Detection of plumbing odors
Ice maker water hook ups
Garbage disposals
Gas pressure test
Outside hydrants
Noise caused by plumbing
Water pressure (we solve high and low pressure problems)
Our team consists of pipe replacement specialists that can carry out drain cleaning and work with gas and electric systems. We also work with sewage systems and clean water systems, including being a trusted team of water leak specialists and plumbing pipe leak sealers.
Whether the job is big or small, residential or commercial, simple or complex, a plumber from Plumb Crazy Plumbing can help! For more information or to receive a free estimate from our team of plumbers, give us a call today.
Our Services
We have licensed, professional, courteous plumbers that can provide solutions for all of your plumbing needs, including:
Toilet Repair and Replacement
We can repair or replace your toilet (or specific toilet components) to get this essential restroom equipment working as it should be in no time.
Faucet Repair and Replacement
We can replace or repair any faucet to make it work like new.
Sewer, Water, Gas Repair and Replacement
Our services include quality plumbing pipe leak repair services. We can repair or replace parts or components for water systems, sewage systems, gas systems and electrical systems. Our water leak specialists provide a wide range of services to get the job done right.
Drain Cleaning
Blocked drains can cause bad smells, flooding and drainage issues in your home. To prevent a blocked drain from causing an issue down the road, professional drain cleaning service is a top choice for Oklahoma City residents.
Cameras and Detection Equipment
As trusted water leak specialists, we have cameras and detection equipment to help us find the source of any problem. We can find concealed leaks, blocked pipes and other hidden issues.
Detection of Plumbing Odors
In the home, bad smells can be the result of many plumbing problems. These range from blocked pipes to broken seals and can be a cause of discomfort and embarrassment for homeowners. We can find the source of the smell and repair it using a plumbing pipe leak sealer, new components or our drain cleaning service.
Ice Maker Water Hook Ups
We can hook up an ice maker to your water supply so that it's ready to start working.
Garbage Disposals
Our plumbing services include your garbage disposal and food waste disposal. We can clear blocked pipes, as well as ensure that waste is being disposed of effectively.
Gas Pressure Test
We can run a gas pressure test if you have any concerns about gas pressure problems. We will also identify potential issues to improve your safety.
Outside Hydrants
Our specialist plumbing services extend beyond the home to your outside hydrants and water supplies.
Noise
As plumbing repair specialists, we can identify any sources of unexpected or loud noise. We will then make the necessary repairs. Your plumbing system should work quietly in the background. If it provides more than background noise, we advise letting Plumb Crazy Plumbing take a look.
Water Pressure
We solve high and low pressure problems. We will find the problem and respond to get water pressure back where it belongs. As trusted pipe replacement specialists, we offer high quality replacement pipes if we spot a leak or blockage.
Disposal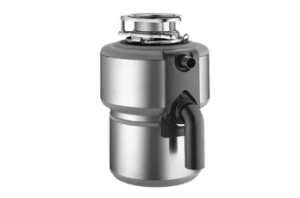 We offer several disposal models, including the SoundSeal technology that delivers Ultra Quiet performance. These will enable you to hold a conversation with normal voices in the same room.
Our waste disposal units will operate quietly in your kitchen, shredding waste effectively to pass through your plumbing system. All units are provided with a warranty and can be installed and connected by a specialist plumber.
Solid Brass Faucets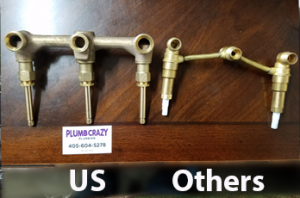 We carry solid brass faucets, which mean better temperature mixing and less cost on normal bibb washer repairs.
Solid brass faucets are made to last, working efficiently and durably. These faucets are strong and sturdy, meaning they are able to handle the daily activities of family life.
Contact Us: 405-604-5278
To learn more about our specialist plumbing services, call Plumb Crazy Plumbers today! Our plumbing repair specialists work across Oklahoma City and Edmond, OK. For more information about our plumbing services, just dial our number or email us.